Letting Agents in Tunbridge Wells and Tonbridge
Management services for landlords in West Kent
Wanting to let your home?
We know that as a Landlord you want to achieve a  swift successful let and maximise the yield on your property without stress, fuss or rental voids whilst having confidence that you are fully compliant with the latest up to date legislation.
Whether you let a one bedroom flat or maintain a portfolio of properties we have a landlord service that is right for you.
Our Letting Agents at Bracketts in Tunbridge Wells and Tonbridge are delighted to offer Fully Managed, Rent Collection and Let Only services. We will make arrangements to discuss your requirements and expectations and agree on the service which is best suited to your needs. Our team maintains the highest standards to provide you with peace of mind, whichever service you choose.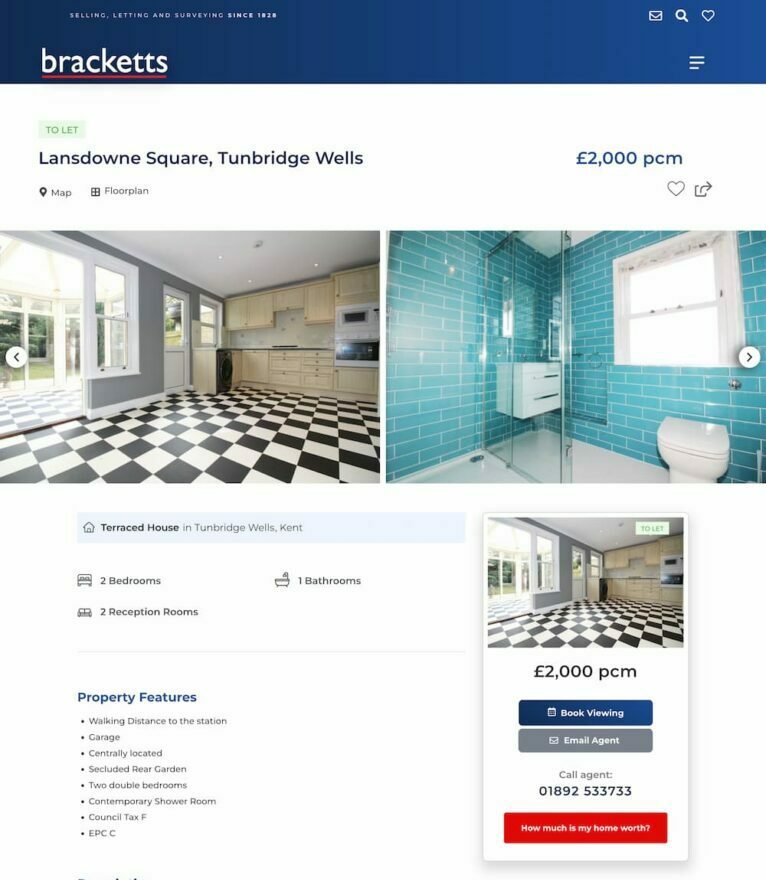 We're proud to be the #1 Letting Agents in Tonbridge for 2022
We understand that managing even one rental property or a portfolio can be a huge responsibility. Our Lettings Team are proud to be members of the Association Of Residential Letting Agents (ARLA Propertymark). This means we will give the best advice and service as we are industry backed and fully trained.
In these changing times, we know there is a complex legislative environment that surrounds the rental market. We will ensure you are fully up to date with your legal duties as a Landlord. Even before the tenancy has begun, our expert property management team will work with you and ensure legal compliance is adhered to.
Our Property Management team will look after you every step of the way and look after your investment and the day to day running of the Tenancy.
Any calls we receive regarding maintenance issues of a fully managed property are dealt with quickly and efficiently. When repairs are required, we have an excellent team of local, vetted and insured contractors on call. These are genuinely loyal and reliable as they regularly work with us.
We also benefit from a team of in-house Chartered Building Surveyors who can assist with diagnosing more complex defects/problems. This gives you the best advice and expertise. Whether it be big or small refurbishment works, we are here to help.
Tenant Find and Rent Collect Service
This service is the best choice for landlords who want us to administer the collection of their rent whilst arranging for ongoing maintenance and repairs themselves. We then collect and transfer the first month's rent, deposit, ongoing monthly rental payments and chase any late payments when necessary.
Our Let Only Service includes marketing your property following our initial visit, arranging for accompanied viewings and ultimately sourcing, qualifying and fully referencing your new tenant. We will draw up the legal paperwork, arrange for a professional inventory and 'check in' your tenant, securely lodging their deposit in the appropriate deposit scheme.
Compare our Letting Services
Fully Managed
£250 + VAT Start Up Fee
Photos and any measurements

Advertising online: Our website, Rightmove and On The Market

Negotiating applicants subject to contract and referencing

Tenants reference checking

Bracketts to arrange the appropriate checks and legal compliance (such as gas safety, EPC, EICR etc.)

Preparation of Tenancy Agreement and further move in documentation

Arrangement of paperwork to be signed

Providing tenants with the Government How to Rent Guide, Prescribed Information & DPS Guide

Arrange Inventory report to be carried out

Send out the Inventory report to the landlord and tenant

Bracketts to advise the utility companies of the meter readings and new tenants
Rent Collection
£250 + VAT Start Up Fee
Photos and any measurements

Advertising online: Our website, Rightmove and On The Market

Negotiating applicants subject to contract and referencing

Tenants reference checking

Preparation of Tenancy Agreement and further move in documentation

Arrangement of paperwork to be signed

Providing tenants with the Government How to Rent Guide, Prescribed Information & DPS Guide

Send out the Inventory report to the landlord and tenant
Tenant Find Only
£250 + VAT Start Up Fee
10%
+ VAT (minimum of £600 inc. VAT)
Photos and any measurements

Advertising online: Our website, Rightmove and On The Market

Negotiating applicants subject to contract and referencing

Tenants reference checking

Preparation of Tenancy Agreement and further move in documentation

Arrangement of paperwork to be signed

Providing tenants with the Government How to Rent Guide, Prescribed Information & DPS Guide
Read up on the latest articles, updates and news from our residential team:
Get in touch with the management team: